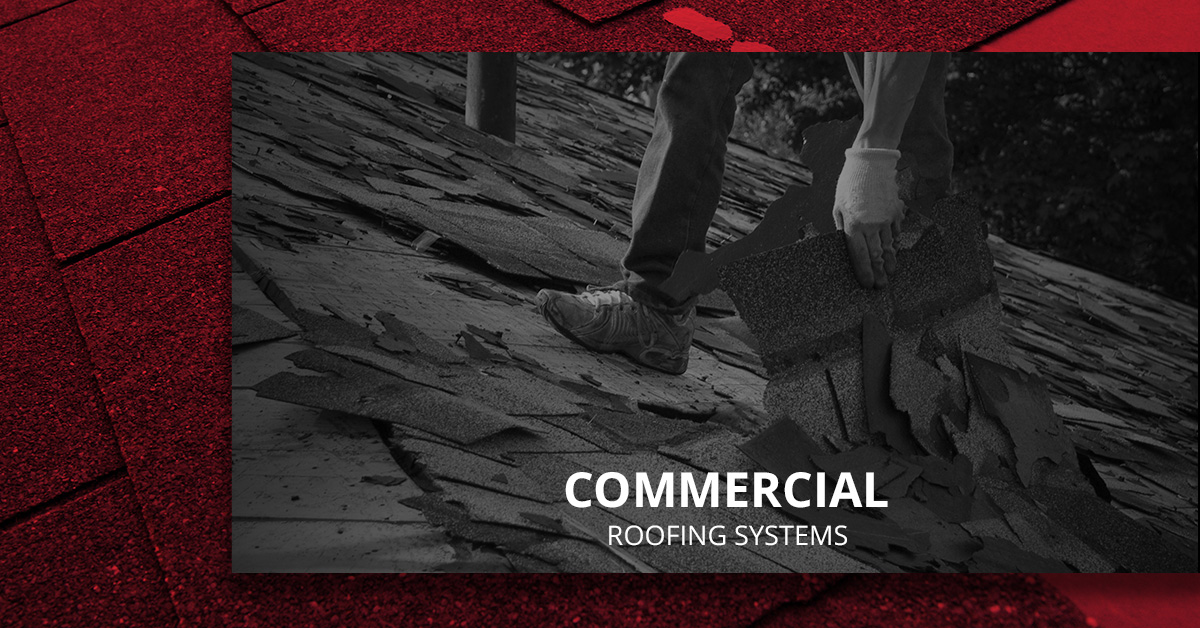 Commercial Roofing Systems
Commercial Roofing Systems Installed in Jacksonville, Saint Augustine, Palm Coast & Nearby
There's good news and bad news about commercial roofing. First, the good: Today there's an amazing selection of commercial roofing materials and techniques available, providing building owners with excellent options for commercial roof replacement, reroofing and new roof installation.
The bad news is that this variety of commercial roofing options can make it very difficult to select the right roofing treatment for your commercial building. Adding to the confusion are the different acronyms used to describe various roofing types: SPF, TPO, EPDM, etc. However, there's no need to worry. If you want to make sure you've got the right type of commercial roofing, you've come to the right place. J. Adams Roofing will help you select a roofing or reroofing treatment that suits your building and your budget.
If you are in need of commercial roof repair, replacement or new roof installation, contact our roofing company to schedule a free estimate today! J. Adams Roofing can provide quality services for commercial roofing systems in Jacksonville, Saint Augustine, Palm Coast and throughout the surrounding area.
---
We are experienced in many roofing types, techniques and materials
Commercial roofing is sometimes described by the type of roof on the building: flat, low slope, shed and steep slope, for example. In other cases, roofing is described by the installation technique – such as "built-up roofing," "standing-seam roofing," "single-membrane roofing" and "torch-down roofing." More frequently, roofing is described simply by the material that's being installed. Here are brief descriptions of the main commercial roofing materials being used today:
---
Metal roofing includes factory-made panels and flashing profiles, as well as roofing panels that are cut and formed at the building site. When installed on a sloped roof, metal roofing offers the benefits of energy efficiency (lower heat gain during warm, sunny weather) and low maintenance.
Benefits


There are some incredible benefits that come with choosing to install metal roofing as your commercial roofing system. For one, metal roofs are known for their durability and longevity, and better yet — they don't decompose. This comes as no surprise, as metal can withstand inclement weather conditions and can last for years. And when it comes to commercial roofing systems, what is better than to know the roof structure is long-lasting and durable? We'll take it one step further, too: metal provides a positive environmental incentive as well because metal roofing is high in recycled materials, and can actually be installed over your current commercial roofing system without having to dispose of unwanted roof material.

And of course, metal looks good! Depending on the style you're trying to achieve, the chances of you choosing a metal roof option for the timeless look it offers the overall structure is high. Providing you with a classic style, durability, and long-term property value, you'll have no regrets choosing metal as your commercial roofing material.

Maintenance
Keeping your commercial roofing system maintained is essential, no matter what material the
structure is made from. When you work with J. Adams Roofing, you can trust that your roof is in good hands and that all its maintenance needs are taken care of. It's best practice to call in roofing professionals for routine maintenance. During the maintenance inspection, the roofing technician will look at the gutters, spouts, and drains to make sure nothing is clogged. They will clear off the roof if there are a lot of leaves, tree branches, and other debris. They will also check for tears or damages in the material to prevent any leaks from happening.
---
SPF (Spray Polyurethane Foam) roofing is a popular roofing option for flat and low-slope roofs. Applied with spray equipment, an SPF roof provides a seamless roof covering that can go over an existing roof or over new construction. SPF roofing is popular because it eliminates the need for most types of roof flashing and it also functions as roof insulation, lowering the building's heating and cooling costs.
Benefits 

Like aforementioned, SPF roofing offers a seamless option that can be installed by itself or over an existing roofing system. You can go a few years before you'll need to re-spray the foam roofing, which makes it a fairly easy and low-maintenance option. Plus, you'll be getting a good bang for your buck. Not only that, but spray foam has been used as a method of building insulation for years. When used as a commercial roofing system, it will act as an insulator as well.

Maintenance Again, you can go a few years without needing to re-apply the SPF roofing. It's fairly low-maintenance, which is great! As for routine maintenance, it's best to call up the professionals at J. Adams Roofing. Spray Polyurethane Foam is highly effective, but it does require the expert eye of a roofing professional when it comes to maintaining and addressing damages.
---
EPDM roofing is sometimes referred to as "rubber roofing" because this roofing membrane material (technically known as ethylene propylene dienemonomer) is black and flexible like a rubber inner tube. EPDM roofing can be installed on flat and low-slope roofs. Seams between adjacent EPDM sheets and metal flashing elements are typically sealed with special adhesive.
Benefits


The biggest benefit of this type of commercial roofing system is the price. Compared to other materials, this rubber-based option will provide you with the most bang for your buck. Lasting you up to 20 years, you'll feel good about your roofing decision years from now as it is durable, fairly resistant to scratching and scuffing, and easily repairable. Not only that, but this material is easy and intuitive to install. That said, we still recommend you hire a roofing company for your installation needs, especially in regards to commercial roofs!

Maintenance

Due to its rubbery nature, EPDM roofing systems are easy to maintain. When it comes down to it, all that needs to be done is routine maintenance by a roofing company to remove leaves, branches, and debris that can accumulate, as well as to check for any damages. While we do suggest you contact J. Adams Roofing for all of your repair and maintenance needs, EPDM can be maintained easily by yourself too if need be. Just be sure to be extra careful when climbing onto the commercial building and walking around.
---
TPO (Thermoplastic Polyolefin) roofing is a single-membrane system, just like EPDM roofing. Installed in large rolls, TPO can be installed with mechanical fasteners or by fusing seams with heat. The white TPO material used most often does a good job of reflecting solar radiation, which helps to reduce the demand for air conditioning in hot weather.
Modified bitumen roofing is applied in rolls that are usually heated with a torch to seal seams and adhere the asphaltic material to the substrate and to flashing details. The popularity of more modern single-membrane systems (EPDM & TPO) has reduced the demand for modified bitumen roofing.
Asphalt shingle roofing will always be popular. Plenty of commercial buildings with sloped roofs depend on asphalt shingles for weather protection. This roofing option is among the most affordable, and gives building owners many shingle styles and colors to choose from.
The expert roofers at J. Adams Roofing are trained and certified to work with many different types of commercial roofing systems in Saint Johns, Ponte Vedra
Beach, Jacksonville Beach, Atlantic Beach, Neptune Beach, Hastings, Ponte Vedra, Saint Augustine, Jacksonville, Palm Coast and nearby. We provide commercial roofing services like roof repair, maintenance and roof replacement to ensure that your commercial building is properly protected.
Call us at (904) 217-6802 or send us an email to schedule an appointment today!
Related Pages
Looking for a price? Get a no cost, no obligation free estimate.
---